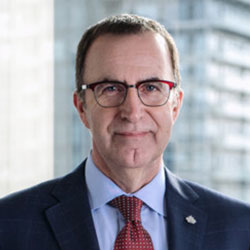 Don Forgeron
President and CEO at Insurance Bureau of Canada
Appointed Insurance Bureau of Canada's President and CEO in 2009, Don has a successful track record of over 30 years in the property and casualty (P&C) insurance industry. He has a strong foundation in the public and private sectors, having worked for Alberta's Department of Environment and the National Research Council in Nova Scotia early in his career.
After joining IBC in 1993 as Vice-President, Atlantic Canada, and subsequently Ontario, Don worked for positive impacts to the insurance and public policy landscapes. Leading the charge for auto insurance reform in Ontario and Atlantic Canada, he worked with various provincial governments to create sustainable and affordable auto insurance systems that meet the consumer need for affordable premiums and adequate benefit levels. Don also helped bring about graduated driver licensing across Atlantic Canada, working with governments and interested stakeholders.
In 2000, Don assumed the role of Vice-President, Strategic Development of Investigative Services, where he supervised work with Customs Canada and other law enforcement agencies to reduce the number of stolen vehicles shipped internationally. He guided IBC's transition to a focused, low-cost service supplier to the industry.
As President and CEO, Don works with governments and key stakeholders across the country to build a strong, stable P&C industry and a stronger and safer Canada. He is also leading a national conversation on the need to better prepare for an earthquake in various parts of Canada and finally, has played a leadership role in the dialogue for helping the country better respond to our changing climate with a focus on flooding events.
Don is also a leader involved in the international insurance issues that increase industry effectiveness and provide input to regulatory bodies. He is a founding member of the Global Federation of Insurance Associations (GFIA), and was recently elected President of GFIA for a two-year term.
A graduate of Cape Breton University, and a 2013 Cape Breton University Alumni Award recipient, Don has completed management studies at University of Toronto, Harvard and McGill universities. He has also completed the Institute of Corporate Directors Program at Rotmans. He served as the 2012-2014 Insurance Division Chair for United Way Toronto and as a member of the Campaign Cabinet. Don was also a member of the Multiple Sclerosis Society of Canada's Board of Directors (Ontario Division), 2011-12.
View profile on


Steering Comittee Members