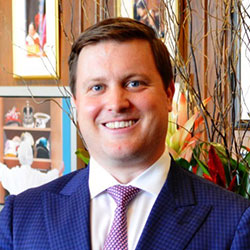 Greg Markell
President & CEO at Ridge Canada Cyber Solutions Inc.
Greg started his career with Lombard Insurance (now Northbridge), where he worked in the commercial insurance group before moving to the Executive & Professional Solutions department. There he focused on underwriting Director's & Officer's (D&O), and professional liability insurance. While at Lombard, Greg completed his Chartered Insurance Professional designation, as well as his Canadian Risk Management certificate.
Greg joined Jones Brown in 2010, where his practice was focused on D&O, privacy, and liability coverages for financial institutions. While at Jones Brown, Greg obtained his Fellow Chartered Insurance Professional designation. He left as a partner in 2014, joining HUB International to focus on privacy liability and D&O, acting as a resource to his colleagues throughout the HUB Ontario offices. Greg was responsible for the overall growth of the Cyber book of business while providing educational materials to colleagues to help promote understanding of market offerings in the space.
Most recently, Greg became the President and CEO of Ridge Canada Cyber Solutions (RCCS). Ridge Canada is a managing general agent, focused on providing insurance solutions for clients' cyber and privacy needs. Greg will be providing wholesale solutions to retail brokers, along with consulting work regarding cyber and privacy insurance programs.
Greg has been published in numerous insurance publications and speaks frequently on the topic of cyber and privacy liability for public and private organizations.
Greg has a Bachelor of Commerce with a minor in Economics from Queen's University.
View profile on


Steering Comittee Members