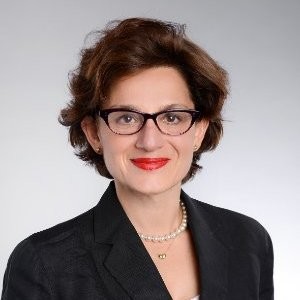 Maryam Golnaraghi
, Ph.D.
Director, Climate Change & Emerging Environmental Topics at Geneva Association
Since 2015, Dr. Golnaraghi is serving as the Director of Extreme Events and Climate Risks at The Geneva Association, the leading international think tank on insurance and risk management, working directly with 90 CEOs of the world's insurance and reinsurance companies. With over 20 years in international executive and senior advisory positions in industry, government and the United Nations, Maryam is working at the forefront of developing proactive strategies, policies, investment approaches, financial and risk management solutions: (i) for building socio-economic resilience to extreme events and climate risks such as floods and storms, and, (ii) to enable transitioning to a low carbon economy, with particular focus on climate resilient and decarbonized critical infrastructure. Currently, Maryam is leading four international initiatives: (i) addressing key hurdles to engaging institutional investors at scale in investing towards a low-carbon economy; (ii) how can the insurance industry support the development of climate-resilient and decarbonized critical infrastructure; (iii) evaluating flood risk management practices in six countries with focus on the interlinkages of preventive measures and risk transfer solutions: Australia, Canada, Germany, Japan, UK, and the USA; and, (iv) innovating risk modeling to shape the future of risk financing and risk transfer solutions. In this capacity, she is working directly with a network of C-level executives and leading experts in the insurance industry (on both asset and liability side), risk modeling community, government officials and policy-makers, inter-governmental platforms (e.g., G20, EU), international standard-setting, regulatory and policy-making bodies, international donors and development banks, and the scientific community.
In 2014, Maryam was a senior advisor to Environment Canada and the World Bank Group. From 2004 to 2014, as the Chief of Disaster Risk Reduction at the World Meteorological Organization, she leveraged strategic multi-stakeholder partnerships and latest technological advancements (operational meteorological, hydrological and climate services) to implement multi-stakeholder projects in over 40 countries, supporting the governments with the development of (i) institutional capacities for risk assessment, (ii) policies and preventive measures to reduce risks, (iii) early warning systems and emergency preparedness measure; and, (iv) financial risk transfer and insurance capacities. From 1997 to 2004, as the CEO and President of Climate Risk Solutions, Inc., a research and advisory firm, she provided innovative climate risk assessment and risk management solutions to companies in energy, agriculture, and insurance.
Dr. Golnaraghi serves in a number of international, national, industry and academic advisory boards. She has authored numerous internationally referenced reports, national guidelines and a book (Springer-Verlag 2012). She holds a BS in Chemical Engineering from Cornell University, an MS in Applied Physics and a PhD in Physical Oceanography from Harvard University, after which she held a two-year senior research position at the Harvard Business School.
For a list of latest papers, please see: https://www.genevaassociation.org/research-topics/extreme-events-and-climate-risk
View profile on


Steering Comittee Members